The pinnacle of Master Hattori's Hunters are the KD30- Miyabi and KD30-Hana series. The Miyabi series are 11.3″ overall with a 6 " blade. The Hana series are slightly smaller with an overall length of 10.25″ and a blade length of 5.25″. These models are available only through custom order.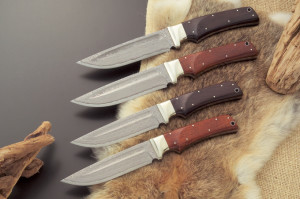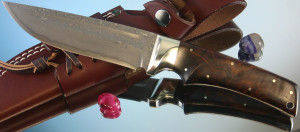 Cowry-X is a powdered alloy developed by Daido Steel Company and considered to be the next generation of cutlery steel. It contains 30% carbon, 20% Chromium and can be hardened to HRc 65-68. Master Hattori uses this Cowry-X as the core edge, constituting 26% of the blade thickness. The beautiful Damascus design is created by applying a forged 30 layers of Nickel and 30 layers of 429j2 stainless to each side, for a total of 121 layers. All KD30 series are forged and hand crafted personally by Master Hattori.
A number of smaller Hunters are also available in the KD30 series.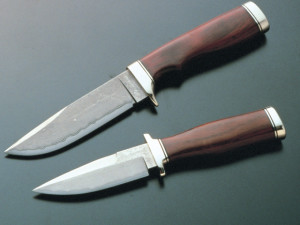 KD30-104 and KD30-101 in cocobolo.
Hattori All Purpose Hunters – Classic designs produced by Hattori in sizes ranging from the 4 " to the 6 1/4″ model.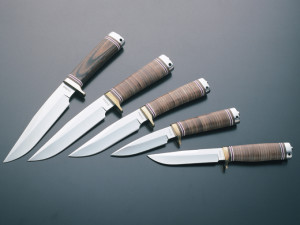 HA6 Series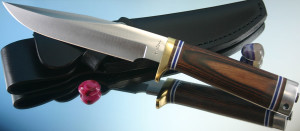 HA6-1W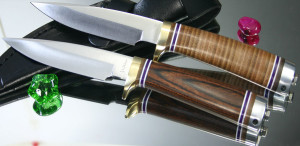 HA6-4L 4W
Aus6 Hollow ground blade, solid brass guard and aluminum pommel, available in Mahogany or Stacked Leather handle.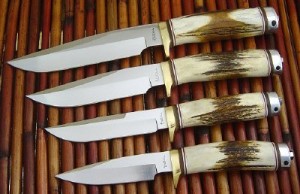 HA Stag Series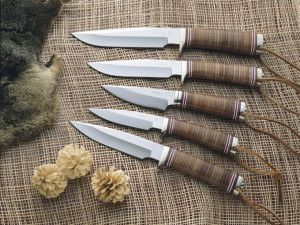 YSS Series
Hitachi Aogami No.2 (Blue Paper No.2) carbon steel blade, stainless guard and pommel. YSS stands for Hitachi Metal's Yasugi works called Yasugi Specialty Steels, where carbon steels like Shirogami, Aogami, Kigami variations are produced.
The YSS-1 was OEM made at one time for a company called MZ Craft.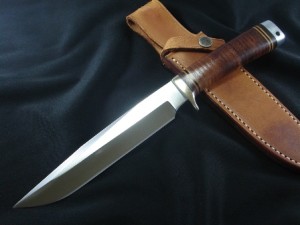 YSS-1 MZ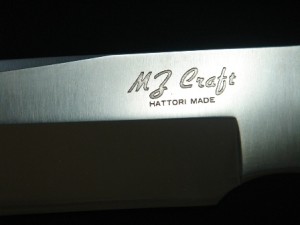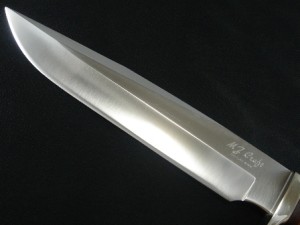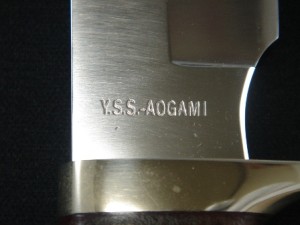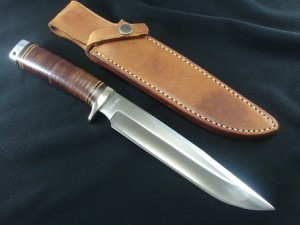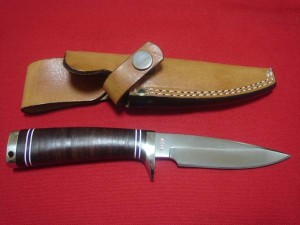 YSS-4

KD30 -1A  Cowry-X Damascus, nickel silver guard – Custom order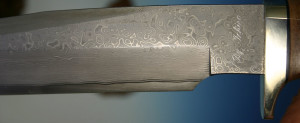 The Hattori Urbane Hunters – In 2009 Hattori at the age of 70 introduced his line of 4″blade VG10 core 420j2 laminate drop point hunters with Nickel Silver guard, 7 pins and featuring his preferred "Hamaguri-ba" convex grind. Fallkniven fans will recognize these familiar features.
,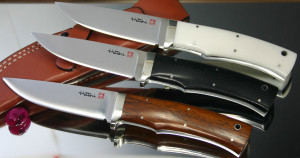 HT-70SWC in White Dupont Corian, HT-70BM in Black Micarta and HT-70SCW with Cocobolo handles.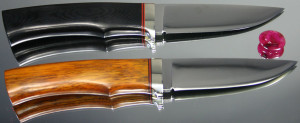 H-70HBM Micarta and H-70HCW Cocobolo a Hidden Tang weight reduced version.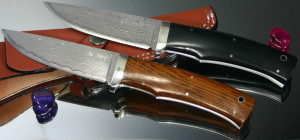 KD30-HT-70BM and KD30-70CW are in Cowry-X Damascus with full tangs.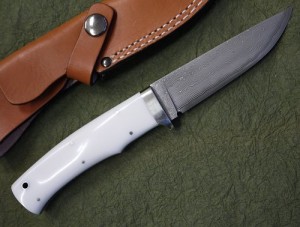 K30-HT-70WC White Corian handle full tang.
In 2015 a Hidden Tang version of the KD30 -HT70 series was introduced combining the lighter weight with a Cowry-X 121 forge layered Nickel/Stainless Damascus blade.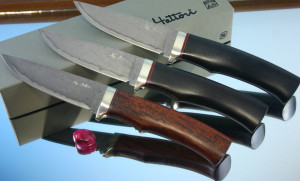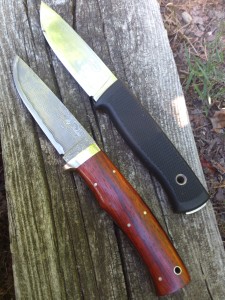 The H-70 Series feels quite familiar to the hand for Falkniven F1 users.
More Hattori Hunters: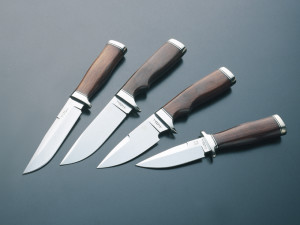 The H-201, H-104, H-102 once made for Winchester and H-101 once made for Browing all in VG10 and Cocobolo. The H-102 was also made for Parker's Custom Series in Damascus as well as the H-101 in Damascus for Browning.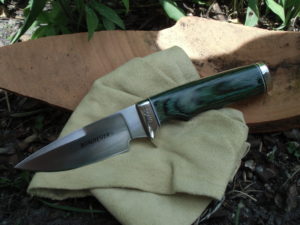 The Winchester H-102. This one has the number 01790; on the right side of the ricasso and marked 440 STAINLESS. The handle is made from German silver, black and white spacers and green Dymondwood / Pakkawood between.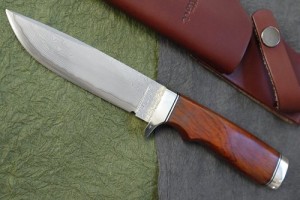 KD30-104 Cowry-X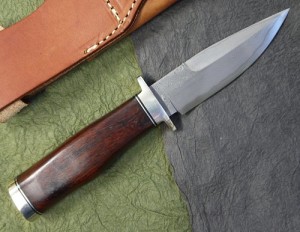 KD30-101 Cowry-X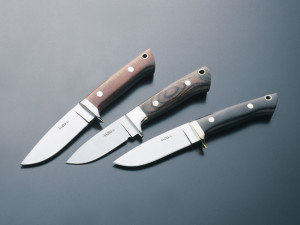 The H-359 Loveless Drop Point in Cocobolo once made for Beretta, the H-109 Drop Point in Mahogany, once made for Sharp, and the H-300 Drop Point in Ebony once made for Valor and Precise. All in Aus8.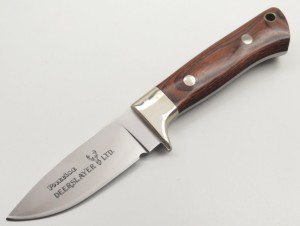 Precise Deerslayer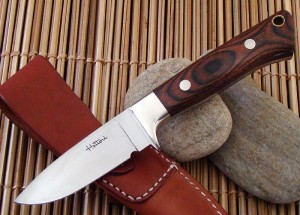 H109
H109 Drop Point Hunter 3 1/2″ Aus8 once made for Sharp in the late 1970s. This model has been made with and without the "Ichiro" chopmark.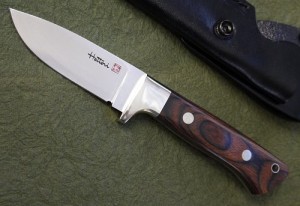 H109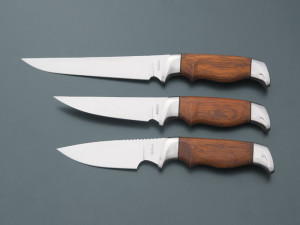 The H-31, H-30 and H-29 once made for Kershaw. All in VG10 with Cocobolo.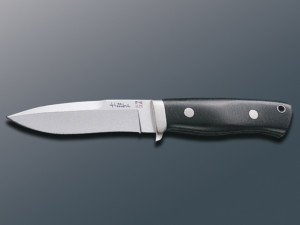 The HT-05 "Dream Hunter" is a very popular Hunter sometimes described as a Chute Knife. A reverse curved hollow ground Aus8 blade, nickel silver bolster and black linen micarta handle.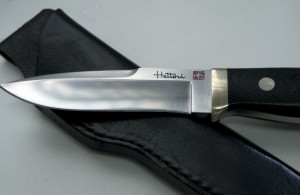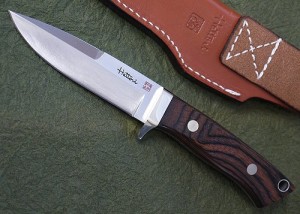 The H-700 in Aus8. A model that actually goes back to the 1980s Parker Custom Series.

VG2 Damascus
The Hattori YH Series Special Carbon Steel Hunters
A Series of Bowies made by Hattori but never made as OEM are the three models of the YH series, the YH-1 and YH-2 with convex grind and the YH-3 with a Hollow Grind. What makes this series interesting and unique is that Hattori used a carbon steel, Hitachi YLB2 an alloy tool used for making bearings. and described with a composition of 1.1-1.2 Carbon, 0.3-1.0 Chromium, 1.25-1.75 Tungsten. The blade is 7″ long and 0.275″ thick with a nickel silver guard.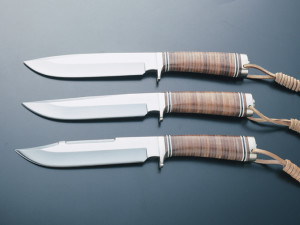 YH-1, YH-2 and YH-3.


Convex ground YH-1


YH-3 Hollow ground
Ichiro Hattori made just two of each and has declared that he will not be making this model again.
Although the grind is not the same, in terms of general appearance and balance, the Hamaguriba YH-1 resembles a hunter version of the A1 and A2 series made for Fallkniven.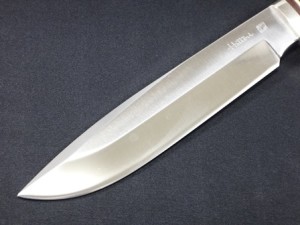 YH-1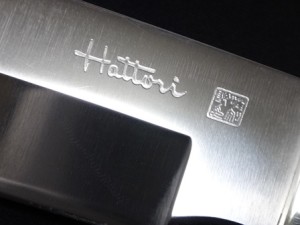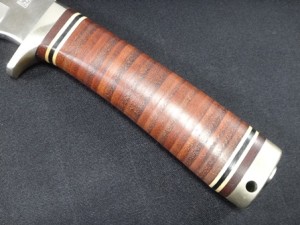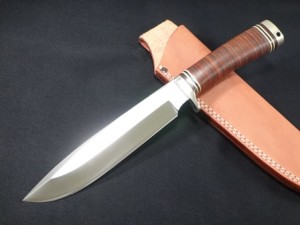 YH-1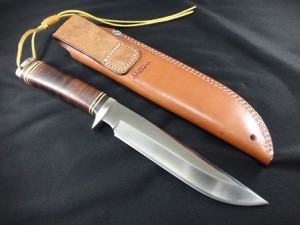 YH-2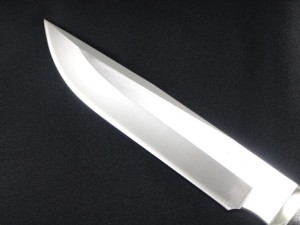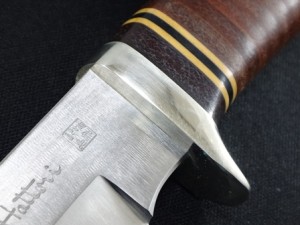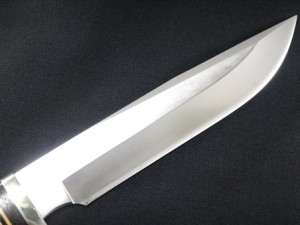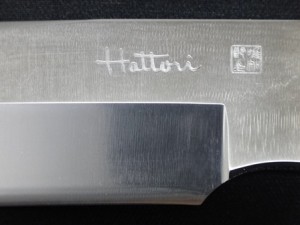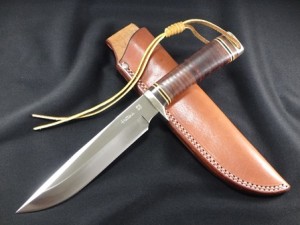 YH-2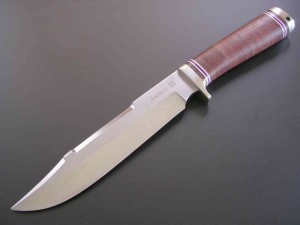 YH-3 with "Bone Breaker" spine
The HN-10 Nordic Hunter. Solid VG10 blade, hamaguri-ba, black micarta handle. Although it is slightly larger with a 5.11 inch blade, the grind lines are very reminiscent of the widely popular basic thermorun Fallkniven F1 model.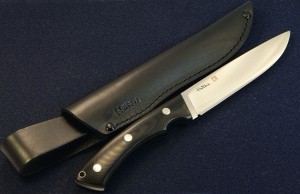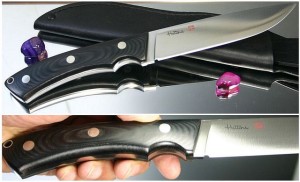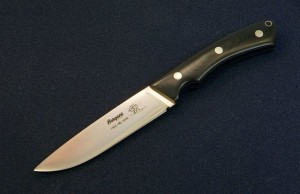 This model was made to commemorate the 100th anniversary of the oldest company in Norway,  Bergans, a manufacturer of outdoor clothing and equipment to civilian, police. military and special forces customers.
A rarely seen model is the Hattori SV-501 Survival Knife which was designed and made for Sheares Technologies PTE. of Singapore The knife was 10.24″ overall with a blade length of 5.51″ and a thickness of 0.196″.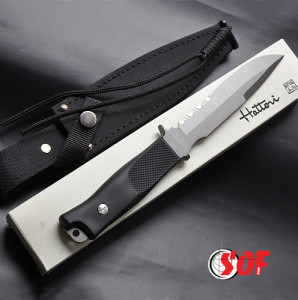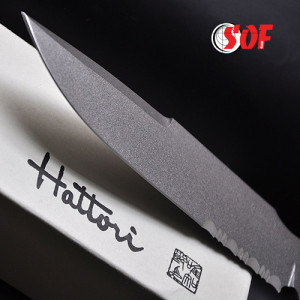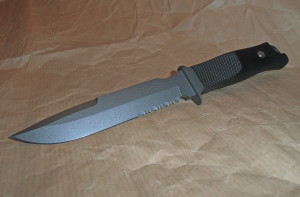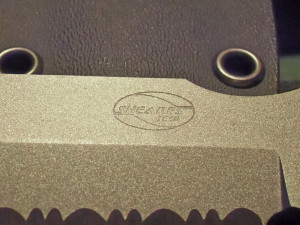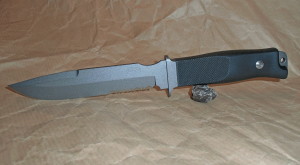 The SV-501 design survived in a less tactial "Hunter" form as the HD-3 Command Knife.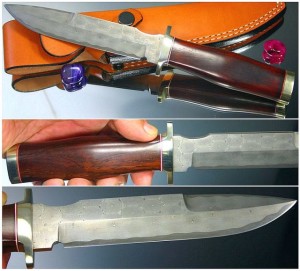 Blade is VG2 core Nickel Stainless Damascus, 5.7 inch blade, stainless guard and pommel and mahagony handle.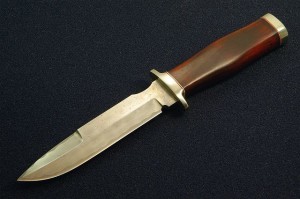 This magnificent custom KD-104 knife was made by Hattori with Cowry-X Damascus using ivory for the handle and the Bulino engraving was by Attila Harmat of Hungary.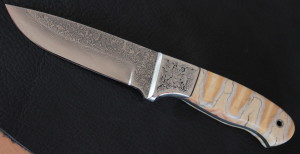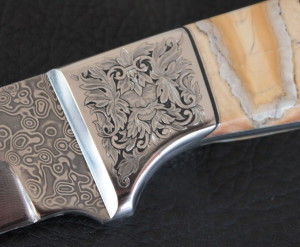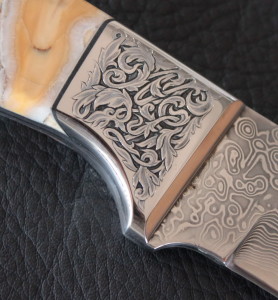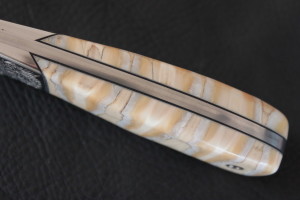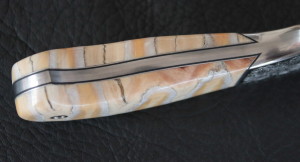 The Model HA-03 is a skeletonized version of the same dimensions which drops 0.7 oz from the weight.
Thanks to SOF Gmbh Germany, British Blades Forum, and Lutz Krempf, Germany.