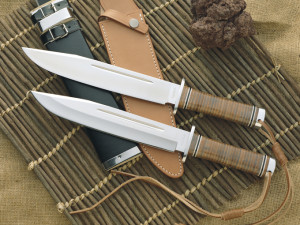 Hattori's largest Hunting knives are the H160-1 and H160-2 Bowies. The 160-1 is convex ground whereas the 160-2 is hollow ground. Blade material is Aus8. Handle is leather washers and stainless steel guard and pommel.


H160-1 Convex Grind
H160-2 Hollow Grind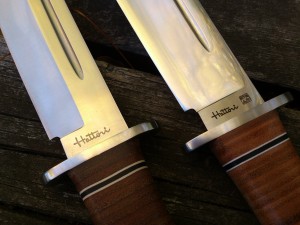 Over the years there have been suggestions that Hattori was the maker of  the Cold Steel Sanmai Trailmaster and the Fallkniven NL1 Thor based upon appearance, components, grind, and dimensional similarity. Those knife enthusiasts and collectors certainly have a keen eye.
Dimension comparison:
Hattori H160-1 Aus8
Overall: 375 mm (14 3/4″)
Blade: 242 mm (9 1/2″)
blade thickness: 6.8 mm (0.267″)
Weight: 465 g (16.4 oz)
Cold Steel Trail Master VG-1 core laminate (San Mai III).
Overall: 14 1/2 "
Blade: 9 1/2″
Blade thickness: 5/16″ (0.31mm)
Weight: 17.502 oz
Fallkniven Northern Lights "Thor" NL1 VG-10 core laminate
Overall: 15.15″ (385mm)
Blade: 254 mm (10″)
blade thickness: 7mm (0.28″)
Weight: 520g (18.4 oz)
The Hattori H-160 series and the Northern Light series share the exact same stainless guard, leather handle, pommel and screw, with different spacers.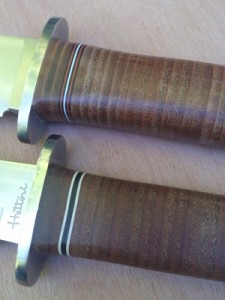 NL1 and H-160 guard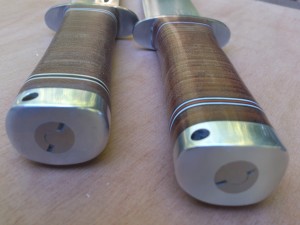 pommel and screw
The current Cold Steel Sanmai Trailmaster uses a different stainless guard in the same shape as the brass ones used on their Carbon Steel models.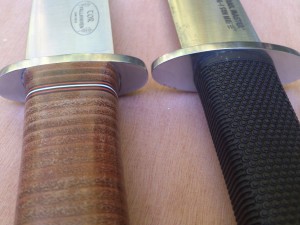 NL1 and VG1 SM TM
However the early Aus6 and Aus8 core Sanmai Trailmasters used a stainless guard that is exactly like that of the H-160 and NL1 except that it is a mm or two thinner.

Early Aus8 core San Mai Trailmaster.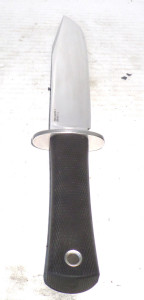 Old style guard.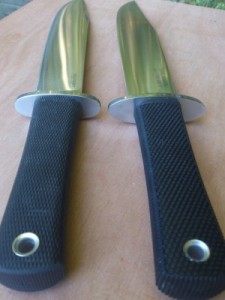 Aus6 TM and VG1 SM TM
The Fallkniven Lights NL1 Thor was introduced in 2002 and is the largest of the Northern Lights series. Originally shipped with a brown leather sheath with a Viking helmet logo, it now ships with a black leather one. There is little to say about this model other than that since it's introduction it has been considered by many to be the best big bowie available today.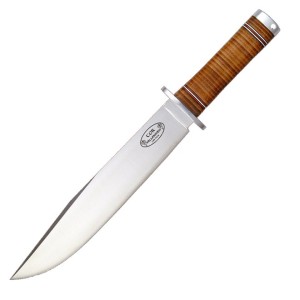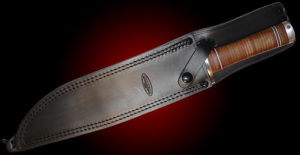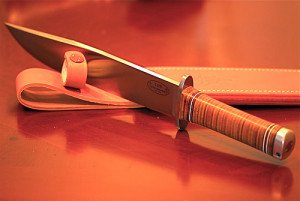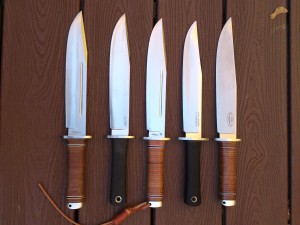 Left to right: Hattori 160-2 Aus8, Cold Steel Trailmaster Aus6, Hattori 160-1 Aus8, Cold Steel Trailmaster VG1 Sanmai III, Falkniven NL1 Thor VG10 Laminate.
The Cold Steel Trailmaster was introduced in 1987-198 and consequently has a long history, and a considerable following of it's own. The very first ones were both made in the U.S. and in Japan with Carbon V, Cold Steel's proprietary name for the carbon steel used. The ones made in Japan at this time are extremely rare.  These early Trailmasters had a convex grind but then changed to a flat grind.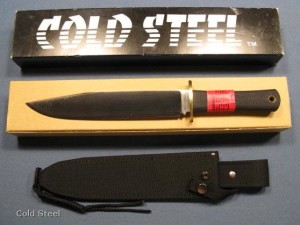 Very early Japan made Model 16C
The Trailmaster is a the classic big bowie with a 9 1/2″ blade, 14 1/2″ overall, a blade thickness of 5/16″, a full guard and a kraton handle. These dimensions and basic features have not changed over 28 years, although blade materials and country of origin have varied.
In the 1990s Cold Steel offered another Trailmaster made in Japan using "400 Series Stainless" designated 16JS. This is called the 1st generation stainless TM and was only produced for a couple of years. A 2nd generation 16JS was made 1998-2001 using Aus6.  It had a convex ground blade, called a rolled edge in the catalog, similar to the current VG1 Sanmai model. Early versions were marked on the ricasso, whereas later models were marked on the blade near the spine. These versions closely resemble the Sanmai version except that the word "Sanmai" and lamination line is missing.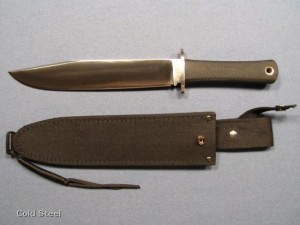 Aus6 blade model 16JS early version.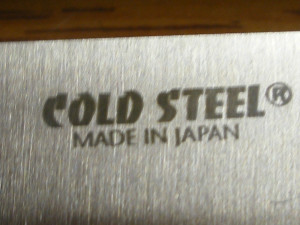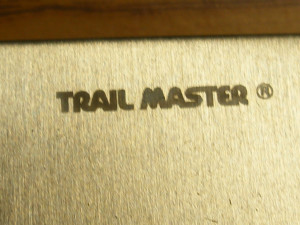 16JS later version.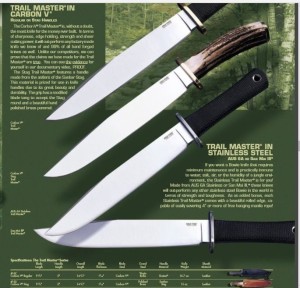 2001 Cold Steel Catalog showing Carbon V, Stag, Aus6 and Sanmai Trailmasters.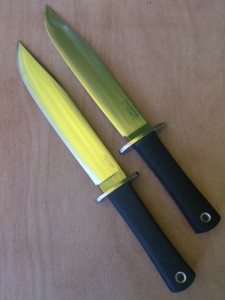 Aus6 and VG1 SM TM
In the 1991 movie "Flight of the Intruder" a black bladed Trailmaster with black micarta scales was used. Cold Steel followed up that movie appearance with a limited edition run of 500 serial numbered knives.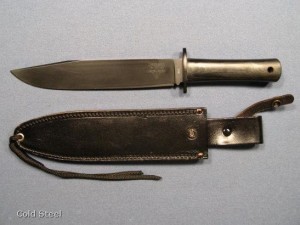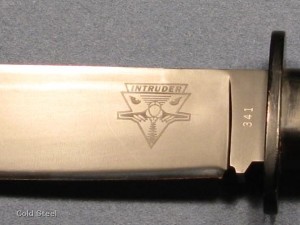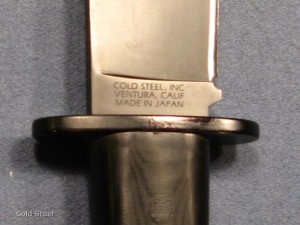 The vast majority of Trailmasters during this period were the familiar Carbon V Made in USA models made for Cold Steel by Camillus.
In 1998, Cold Steel introduced a San Mai version, using the original Aus8 core.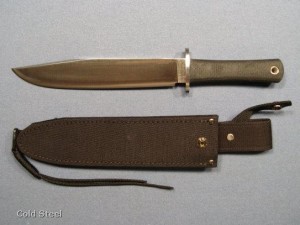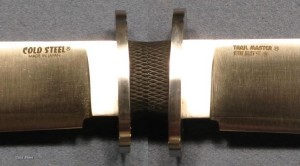 Model 16JSM. Early San Mai with Aus8 core.
In 2006 following the bankruptcy of Camillus, Cold Steel turned to China production using SK5, then switched to Taiwan production. In 2007, the Sanmai blade went from an Aus8 core to VG1 now called Sanmai III.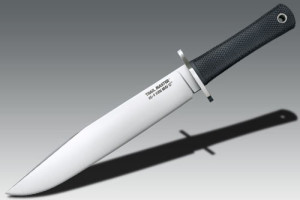 Present day Trailmaster Sanmai III VG1 core made by Hattori. The Kraton handles used by Cold Steel now have larger surface protrusions than the original ones.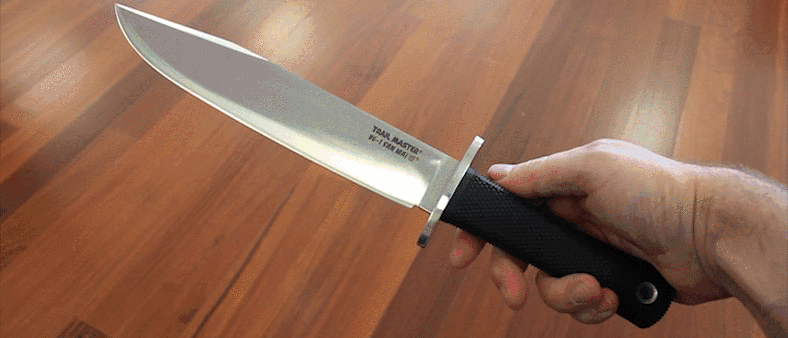 The Cold Steel Recon Scout is a smaller version of the Trailmaster, much in the same way that the Fallkniven NL2 Odin is a smaller version of the NL1 Thor.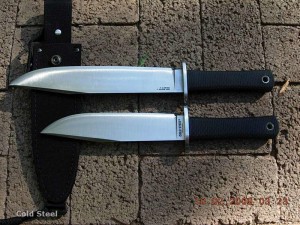 Cold Steel Sanmai III Trailmaster and Sanmai III Recon Scout.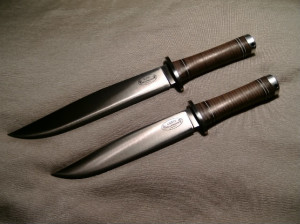 Fallkniven NL1 Thor and NL2 Odin.
A Comparison of the specifications:
Cold Steel Recon Scout-  Length Overall 12.5″ Blade Length 7.5″ Blade Thickness 0.31″ Weight 15 oz Blade Type VG1 core Sanmai III (laminate) RC 56-58
Fallkniven NL2 Odin- Length Overall  12.72″ Blade Length 7.87″ Blade thickness 0.26″ Weight 13.44 oz Blade type VG10 core 420j2 Laminate RC 59
Like their larger brethren, these two are made by Hattori. However Cold Steel discontinued the Sanmai III Recon Scout in late 2014.
The Recon Scout was introduced later than the Trailmaster in 1990, and all version made were black, except for the Sanmai III version in satin. Made by Camillus USA in Carbon V until 2006/2007, Cold Steel switched to Taiwan manufacture using Japanese SK5 which continued until late 2014 when the blade material was changed to U.S. made 01 steel. The Sanmai III version was introduced in 2007 with the VG1 core and was made for 7 years with the convex grind by Hattori.
Special thanks for research and photos provided by John Lauffer and the Cold Steel Forums.

http://www.coldsteel.com/

http://www.fallkniven.com/en