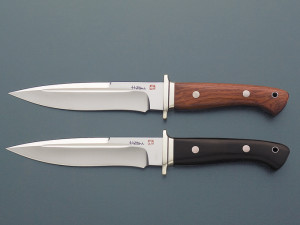 FT100 in Cocobolo and Ebony
The Hattori Fighter under the "Hattori" brand is a quite well known and sought-after knife among collectors. It was made in two sizes; the FT-200 was the larger with an OAL of 14.25″ with a 7.63″ blade and the smaller FT-100 with an OAL of 11″ and a blade length of 6″. Both with a polished solid silver nickel hilt. The handles were offered in Cocobolo, Black Ebony and, White Dupont Corian for the smaller model. Oddly, the larger FT-200 was described as being MVS-8 stainless steel while the smaller FT-100 was Aus8. The larger model appears to have been last produced in 2010 whereas the smaller one seems to have been in production until quite recently albeit in limited numbers.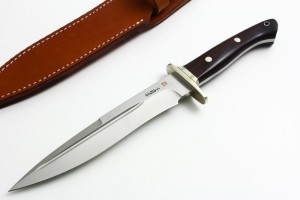 FT200 Ebony
In either case, it is basically impossible to find either of them new in stores, unless Hattori decides to do another run. Typical of Hattori's products, the fit and finish is superb and the knife is a true collection piece. When I first encountered this fighter I had assumed that it was a variant of a Loveless Fighter. However it turns out that it actually has French origins. The design was initially created for a project in 1988 to produce a limited number of Commemorative for the 200th Anniversary of the French Revolution. The handle perhaps gives the strongest hint of this history.
A rare FT-200 version is a limited run reportedly of just 10 pieces which used Buffalo Horn as the handle material.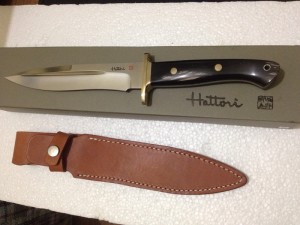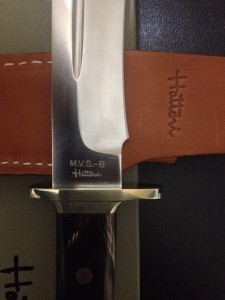 The most well known version in the U.S. however may be the Junglee "Hattori Fighter". The original knives were made by Ichiro Hattori and have "Seki Japan" on the ricasso.

 Junglee Hattori Fighter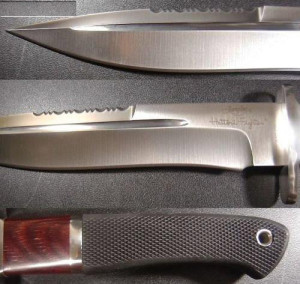 Made in Seki- MVS-8 Steel

 Junglee Baby Hattori Fighter
Junglee Knives started in 1985, as the brand name for a group of tooling and machinery companies owned by Mr Shiraz Balolia, who had also acquired the old Gutman name. The unique combination wood/synthetic handle is said to have been designed and patented by S.Balolia himself, who actually holds a great many patents on various designs and machinery. It was available in two sizes, the larger called the "Hattori Fighter" with an OAL of 13.25″ and a 7.75″ blade, and the smaller "Baby Hattori Fighter" with an OAL of 11″ and a 6″ blade, both with a nickel hilt. These knives were introduced to the U.S. market in the mid-late l1990s and the Taiwan Non-Hattori versions lasted until at least 2008. Apart from the unique handle, the Junglee Fighters differ from all other Fighter versions in that they had a serrated section on the spine. When manufactured by Hattori , MVS-8 Stainless was used. Back when Junglee Knives had it's own website they explained MVS-8 as "an alloy comprised of .85% Carbon, 14% Chromium, .5% Manganese, .5%. Silicon, 2.5% Molybdenum, .15% Vanadium with a hardness between 57-61RC".
MVS-8 is a proprietary steel made for Masahiro, one of the largest and well known cutlery knife makers in Seki. It also happens to be owned by the Hattori family. Masahiro also manufactures knives for the Tsuge designed brand which is marketed by Kitasho, owner of the Kanetsune brand.
The Junglees originally made by Hattori were MVS-8, at least the larger model, and switched to "440 stainless" when production was later shifted to Taiwan around 2005/2006. No one seems to be sure which "440" it really was, many suggesting and perhaps hoping that it is 440C. But in those days "440" could mean alot of things.(Back then SOG used "440A" to mean Aus6A, and Browning used "440" to mean Aus8A). Amongst collectors, the original Hattori/Seki made Junglee Fighters are considered much more valuable than the Taiwan made ones which were marketed by Smoky Mountain Knife Works at less than half of the price of the originals in the later years.
A fairly recent but discontinued product was a copy of the Junglee fighter blade design by M Tech USA, a maker of tactical knives using "440".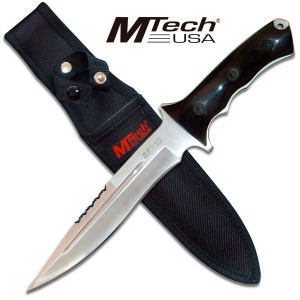 The Katz "Alley Kat" models have long been manufactured by Hattori in Seki, however the handle is a Kraton or similar synthetic.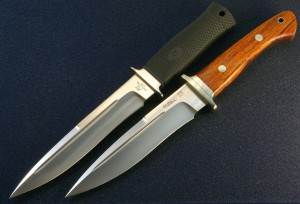 Alley Kat 6006 and Hattori FT-100
The sizes are different as well, if the site information is accurate. The smaller Alley Kat 6006 has an OAL of 10.75″ with a 6.5″ blade. And the larger Alley Kat 8008 has an OAL of 13″ and an 8″ blade. The blades are described as X70, and described as a "proprietary" Stainless Steel with a Rockwell Hardness of 54-55. However, the Kats Knives site does show this: "About our Steels XT70 – AUS6A – 56 Rockwell "C" Scale Hardness XT80 – AUS8A – 58-59 Rockwell "C" Scale Hardness" So, perhaps that's all there really is to it. http://www.zknives.com/knives/steels…h.php?nm=xt-70 Kats Knives' product line consists of knives manufactured in Japan and Spain and generally are considered of high quality, fit and finish, marked chandler Arizona on the left side ricasso and the country of origin on the right side.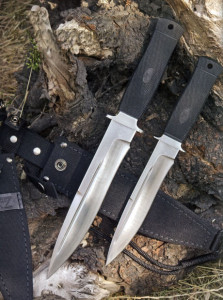 Katz Alley Kats 8008 and 6006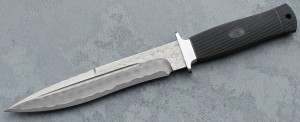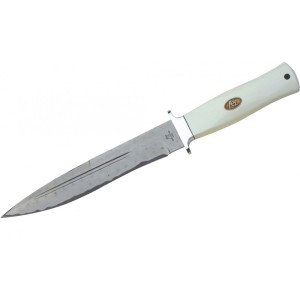 Katz 8008 Damascus
The Katz models are the only versions still not "discontinued" however it is possible that they are limited to existing inventory.
Within Japan, Hattori also mades the larger Fighter for Kitasho of Seki, which also owns Kanetsune of Seki. There were two models, the Silver Stream and Silver Stream II, under the "Tsuge" brand label.
The earliest models of the Silver Stream had "Hattori" engraved on the right side of the ricasso.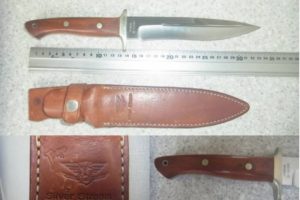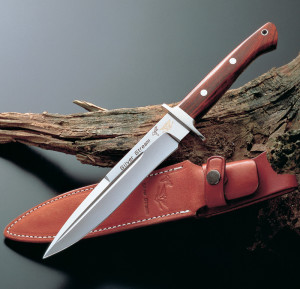 Tsuge Silver Stream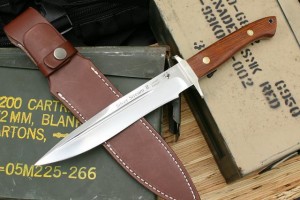 Tsuge Silver Stream II
Both appear to be identical or near identical to FT-200, with an OAL of 13.79″ and a blade length of 7.63″. The original Silver Stream is discontinued , but the Silver Stream II can still be found occasionally and appears to be produced in limited numbers. It also uses MVS-8 and the handle is purple Japanese boxwood. Tsuge is a combat knife brand and named for a Mr Hisayoshi Tsuge, an author, former military journalist, mercenary and French Foregn Legionaire who apparently designs knives based on his military background, but he does not have any production facilities. The Silver Stream II, Model TS-31, was recently reintroduced as a limited serial numbered run of 150. I was lucky enough to pick up No.85. Another version found only in Japan and long discontinued is a model called "Stag Fighter" made by the late Custom knifemaker Seizo Imai and sold under the IMAX label. The IMAX model used ivory and stag for the handle, and an Aus8A blade. Overall length is 333mm (13.11 inches) and a Blade Length of 175 mm (6.89 inches). It is thought that this model was last produced in 2012. Unlike other IMAX models, the Stag Fighter appears to have no markings on the blade or ricasso.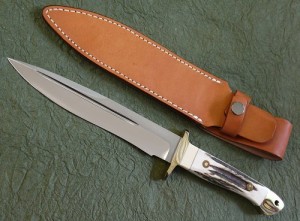 IMAX Fighter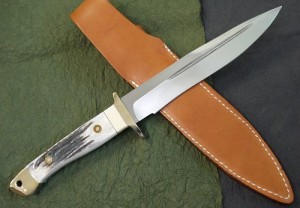 IMAX Fighter
The Hattori Fighter is a truly beautiful knife to look at, light and nimble as a true "Fighting Knife" should be. It is perhaps the lack of a blackened blade and synthetic handle that we today take for granted for any "fighting knife" that is the heart of it's charm. In any version it's a fine addition to any collection.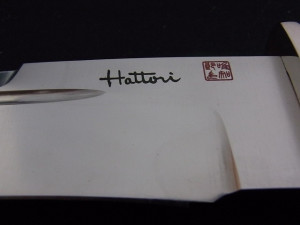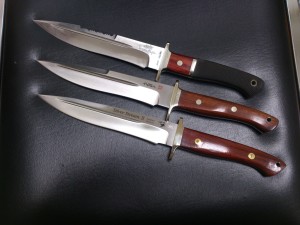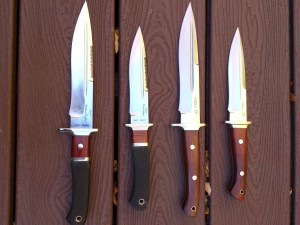 Special thanks to Japan Knife Direct and Anthony Thomas.
February 2015 KH