The reknowned knife maker Bob Terzouola, a name synonymous with the terms "tactical" and "combat" in the knife world designed and made a fighter knife while in Guatemala in 1983 which was designated the M30 Battle Guard.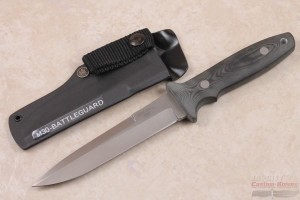 The first production version of this knife was introduced in 1990-91 as the Gryphon Model M-30A1. This model featured a plain edged bead blasted blade in ATS-34 and a zytel handle and was made by Hattori for the Cutlery Shoppe.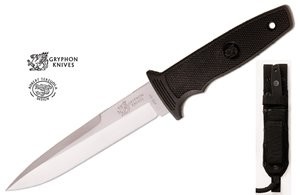 The Gryphon M-30A1 had an overall length of 11.25″, a blade length of 6.25″ a hollow ground ATS-34 blade of 3/16″ thickness and RC 58-59 that came in a beadblasted or satin finish. Unlike the original Battleguard or the other M30 variants that followed later, it had a UV stabilized black checkered zytel handel.
The M-30A1 was sold either with or without a Spec-Ops nylon cordura sheath. Both this knife as well as  the smaller M10  were often coupled with aftermarket custom tactical kydex sheaths.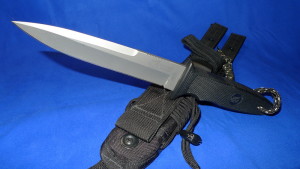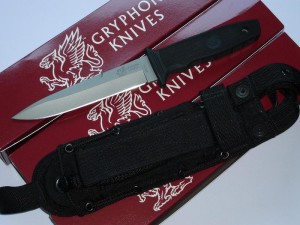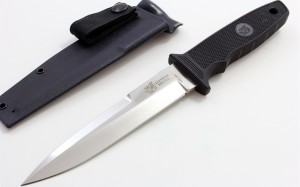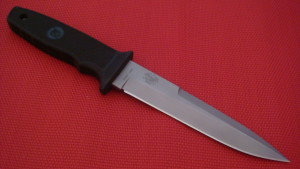 A smaller version the M10 in ATS-34 also a Bob Terzuola design was also offered: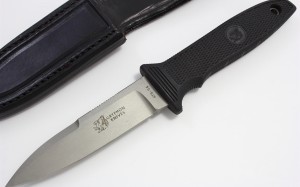 Current Gryphon M10 in VG10 –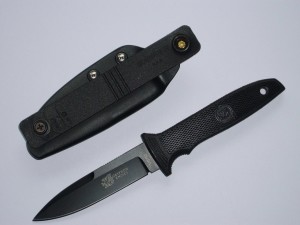 http://www.cutleryshoppe.com/gryphonknivesm10utilitybootknife-vg-10bladewdlcblackfinish-blacksheathprosheath.aspx
The M30 model was also made by Camillus as the CQB 1 (Close Quarter Battle) between 2000-2006. The first versions used ATS-34 hollow ground and grey powdercoated with a full tang design and canvas micarta handles. The blade was marked CUDA (Camillus Ultra Design Advantage). Later the CQB1 switched to 154CM and a satin finish blade. The serrated version was designated CQB1S. A smaller version with a 4″ blade was also offered as CQB2.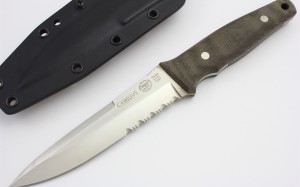 After 2007 when Camillus went bankrupt, Meyerco obtained the rights to make the CQB 1. Under Meyerco, while the use of 154CM was retained and the now flat ground blade received a stonewashed finish.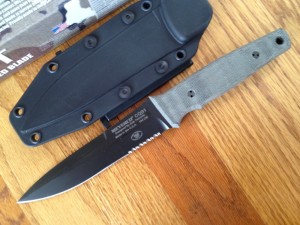 The Terzuola Battle Guard survives today in the M30 by Olmaic Cutlery of Mountain View California, a company existing since 2010 specializing in Custom Damascus knives.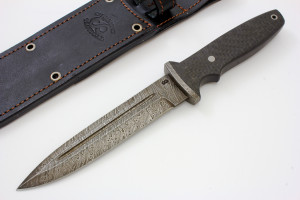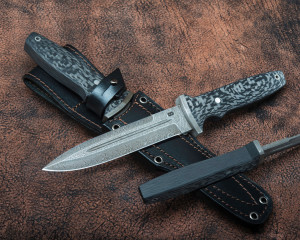 This collaboration model between Olmaic Cutlery and Bob Terzuola uses high carbon vanadium Damascus hand crafted in Russia and was introduced in 2013, exactly 30 years after Bob Terzuola designed this knife. 22 units were made in Damascus and 12 in D2.
Special thanks to Jeff Loffer, The Cutlery Shoppe.
http://www.cutleryshoppe.com/