In the early 1980s a young Spencer Frazer discovered and was inspired by a display of original Vietnam War era MACV-CISO Studies and Observation Group (SOG) Special Forces combat bowies. They were designed by Conrad Ben Baker and made in Japan,  contracted with Yogi Shokai and Japan Sword. They used SK3 carbon steel and because the knives were subcontracted out to several makers, the fit and finish, even the guards varied. The bluing ended up being black, blue, purple or even plum. The knives bore no markings to avoid being traced; "sterile" in covert operations parlance.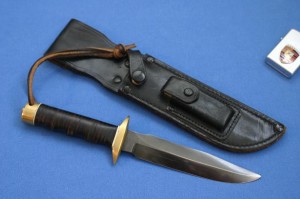 Original MACV-CISO SOG knife
Determined to bring a reproduction of this SOG knife to market, Spencer Frazer contacted Bo Randall of Orlando Florida. Unfortunately, even back then there was a years-long waiting line, but Bo Randall referred him to someone who could help. That person was A.G. Russell who had contacts with Kencrest Corp, the top exporter of Seki knives. They in turn brought in Ichiro Hattori to make the first  knives for SOG Specialty Knives of Santa Monica Ca. The S1 was based on the commemorative version of the originals rather than the bland unmarked issued ones. It used a blued SK5 carbon steel blade, stainless steel guard and pommel and stacked leather handle. The left side of the blade bore the SOG company logo, while the right side bore the 5th Special Forces crest near the ricasso and additional wording on the blade. The knife was brought to the market in 1986 and marketed in ads in "Soldier of Fortune" magazine.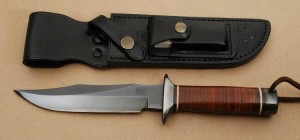 SOG S1
Shortly afterwards, SOG introduced the S2 "Trident" Bowie, which commemorated the U.S. Navy Seals. This knife had a polished Aus8 blade, black Micarta handles and the U.S. Navy Seals crest on the right side of the blade. While the most commonly seen S2s have a solid black micarta handle, the earliest ones had stacked micarta handles.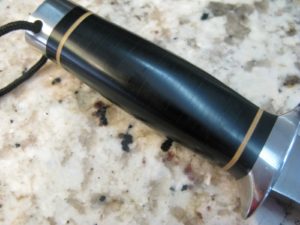 The first S2 sheaths shipped with a nylon one marked Santa Monica, and later Edm Wa. Later models came with the leather sheath.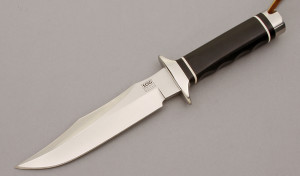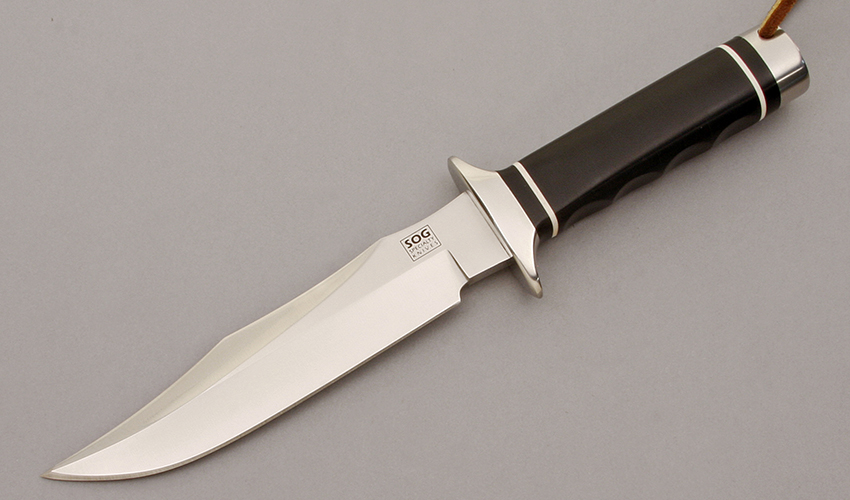 SOG S2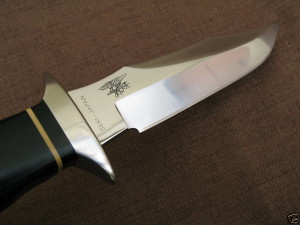 U.S. Navy Seals crest
A rarely seen model was the SOG SS1, which was identical to the S1 in all respects except that it had no Special Forces Crest or the "Vietnam, Fifth Special Forces Group" on the right side of the blade.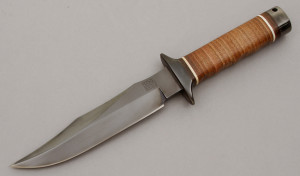 SS1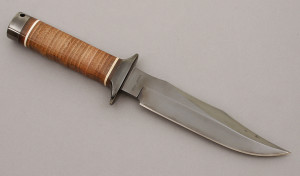 SS1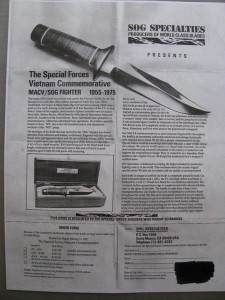 In 1989 SOG marketed a limited edition commemorative S1 which had the words "SOG SPECIALITIES" as the blade logo. It was serial numbered to 1500, and the number appeared on the left side ricasso. The origin "Japan" appears on the back of the pommel. Based on a Certificate of Authenticity signed by Spencer Frazer, knife no.0002 went to Arnold Schwarzenegger, No.0007 to Robert K. Brown of "Soldier of Fortune" magazine, No.0010 to Al Mar, and two sterile versions were given  to Sylvester Stallone during the filming of Rambo; First Blood, Part III. Of notable interest is that Spencer Frazer discloses that this knife, which was made by Ichiro Hattori, was made in one of the same factories that made the original MACV-CISO knives.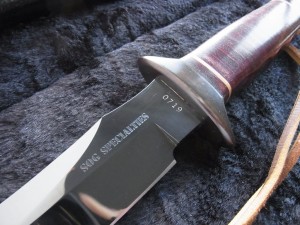 Special SOG logo.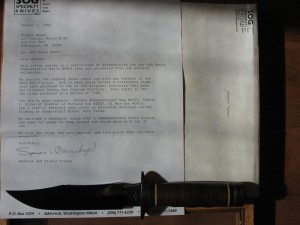 Certificate of Authenticity.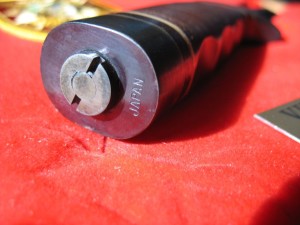 Country of origin on pommel.
A similar commemorative of the S2 Trident was also made with this logo.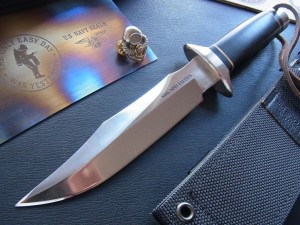 The SOG S1 has become a classic among knife collectors and has appeared in movies and television.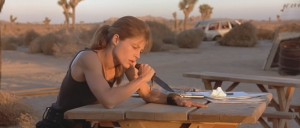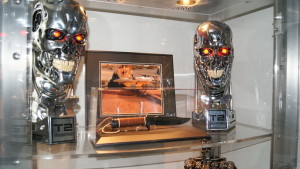 SOG Specialty Knives produced the S1 and S2 over the period of 1986-2005 that Hattori made these knives. There were a couple of limited edition commemoratives made by Hattori between 2006-2008.
Seki production of these two models ended in 2005 and SOG shifted to Taiwan production thereafter. Amongst the SOG collectors the original Seki made models still remain the most sought after.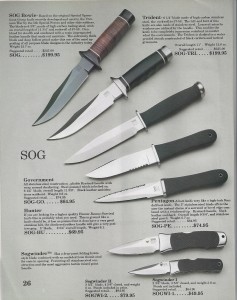 1991 AG Russell Catalog
The same knives made for SOG were later made under the Hattori brand and designated TV2 and TV3.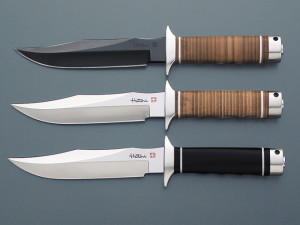 Hattori TV-1(SK5), TV-2, TV-3(Aus8)
The earlier TV-3 designation was used for the unusual plum blued brass guard and pommel model.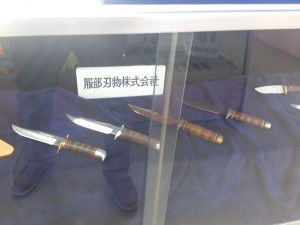 Seki Hamono Kaikan (関刃物会館)Display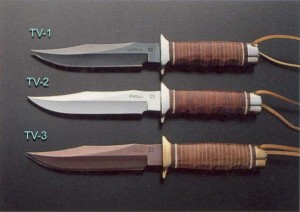 During this period, Hattori also made similar knives for Boker of Germany, two MACV-CISO commemoratives, identical but the first had a signature of Conrad Ben Baker etched on the left side of the blade, and the other had no signature. Both of these are unique as their grind line ends closer to the ricasso, rather than the second spine peak. This is characteristic of the actual standard issue MACV-CISO SOG knife used in combat. All other Hattori SOG knives follow the grind line of the MACV-CISO SOG Commemorative editions.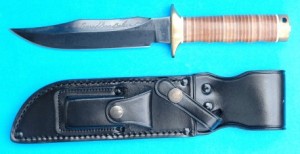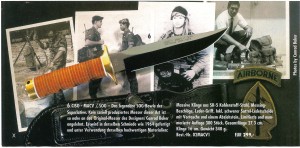 CISO/MACV Boker Ad from 2002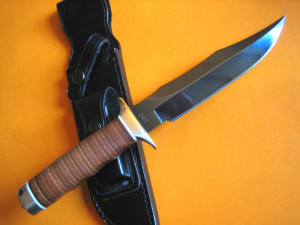 Boker Commemorative SOG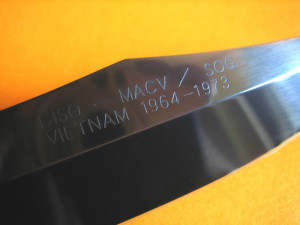 Right side of blade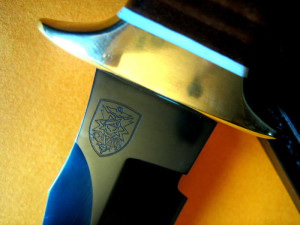 Left side of blade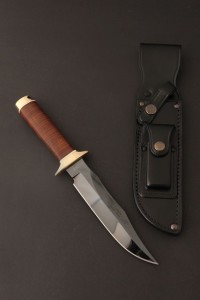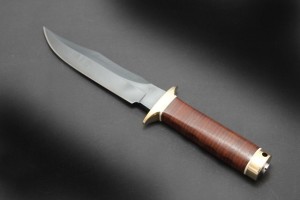 Another Boker offering was the the Son Tay Raid commemorative and the unusual blade shaped "Force Recon" model. All of these models were made for the European market so are not encountered often in the U.S.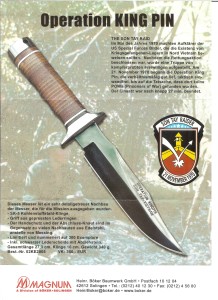 Son Tay Raider Boker Ad 2005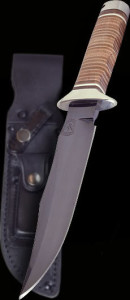 Boker Son Tay Raider Commemorative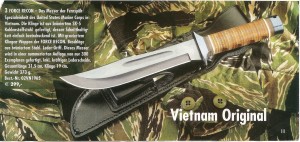 Force Recon Boker Ad 2003.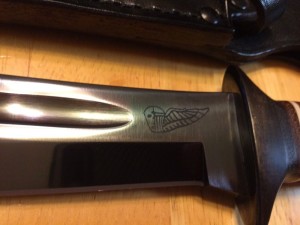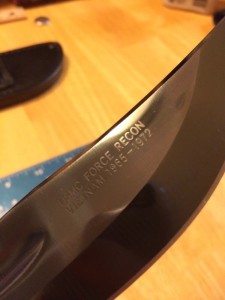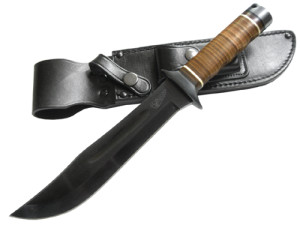 Boker Force Recon
In 2006 a limited edition Damascus S1 was offered by SOG. It is very rare as only 50 were made, all serial numbered, with a Certificate of Authority signed by Spencer Frazer and came in a wooden presentation box. The blade was a VG10 core with a Nickel Stainless (410j) Damascus in 49 layers.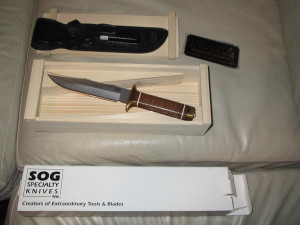 Damascus VG10 L/E

Damascus S1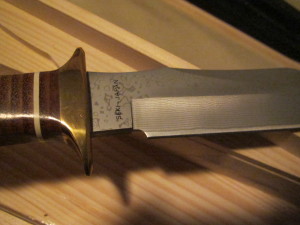 Made in Seki
The same knife as the Hattori HD7, a VG10 core but with a 97 layer Nickel Stainless Damascus is still available only by custom order.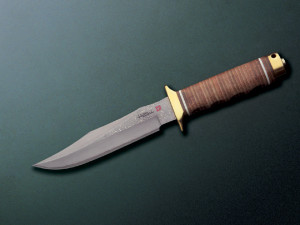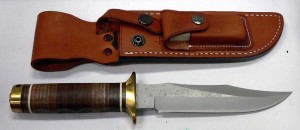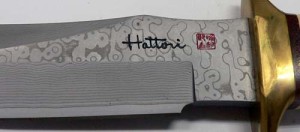 Another Limited Edition 1000 knife run offered by SOG was a commemorative made during 2006-2008 . It was a standard S1, blued SK5 blade, serial numbered on the guard. It came in a presentation box with a Certificate of Authenticity signed by Spencer Frazer as well as a Plaque.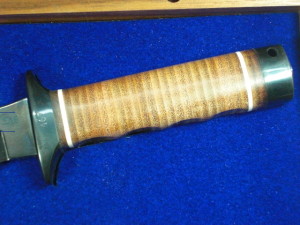 S/N on guard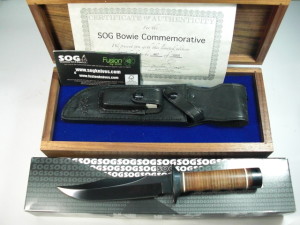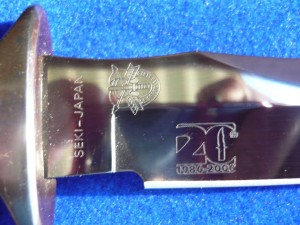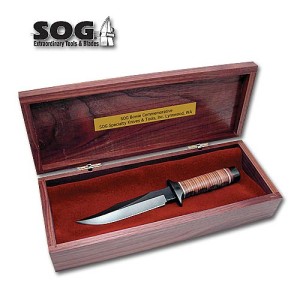 L/E Commemorative
This commemorative edition is likely the last S1 made by Hattori for SOG Specialty Knives, as they had started to switch manufacture from Seki Japan to Taiwan. It would also be the last SOG knife that used bluing on the blade, and the only Hattori made S1 with the newer "bullet cutting" SOG logo.

 SOG S2 Trident Seki 1986-2005 Aus8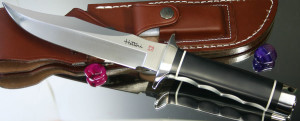 Hattori TV-3 (current) Aus8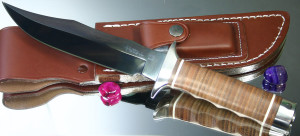 Hattori TV-1 SK5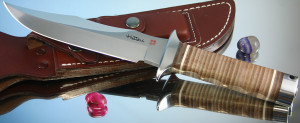 Hattori TV-2 Aus8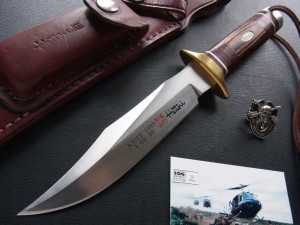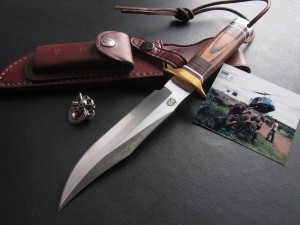 1998 Hattori Year of Knife Limited Edition of 99.
Thanks to SOGknivescollectors.com, Boker Germany and Lutz Krempf, Germany. Special thanks to the SOG subforum members on Bladeforum.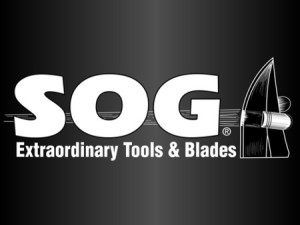 https://www.sogknives.com/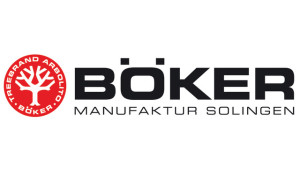 https://www.boker.de/us/