In the mid 1970s, Peter Kershaw, formerly a marketing representative at Gerber Legendary Knives formed his own company together with his wife Judy and shipped their first knife in 1974. He had sent a Made in USA Gerber fixed Blade to Ichiro Hattori to serve as a design basis for the series of knives that became the Kershaw 10X0 series. The blades were all Aus8 and while the original models had wood handles, the basic production models used a phenolic resin handle.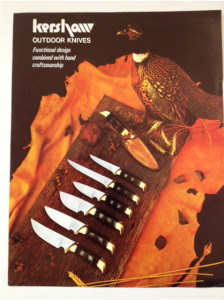 1974 Kershaw ad.
Several serial numbered engraved limited edition boxed presentation models were also made.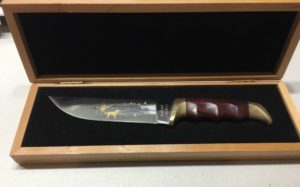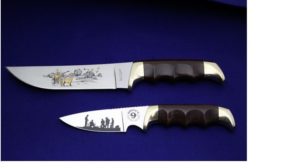 Recent Hattori versions in VG10 (60-61RC) Cocobolo handles with black spacers, stainless steel hilt and pommel.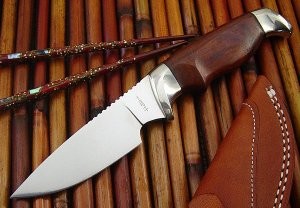 H30 Field Hunter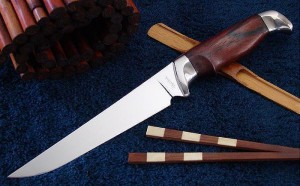 H31 Field Camper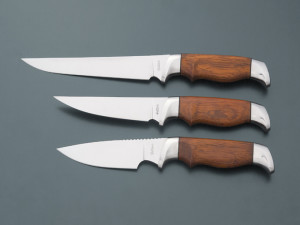 H31,H29,H30 VG10
While the Hattori brand versions of Kershaw models are in VG10, a rarely seen model is the Kershaw model 1129 (Hattori H29) with a Cowry-Y blade, a powder steel used only by a few custom knifemakers in Japan, such as Koji Hara. The Kershaw model 1129 is said to have been made in limited numbers as a test prototype. Cowry-Y is made, along with Cowry-X by Daido Steel and is reported to contains 1.25 of Carbon, 14.5 of Chromium, 3.0 of Molybdenum, 1.0 of Vanadium, 0.3 Nb in HRC 62-64 .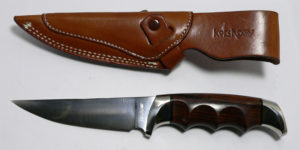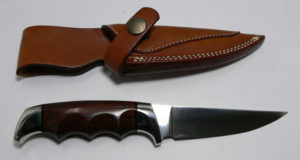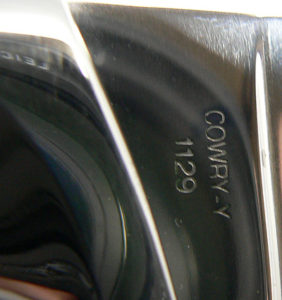 The Kershaw 1050 Folding Field is arguably the best known classic Kershaw folder.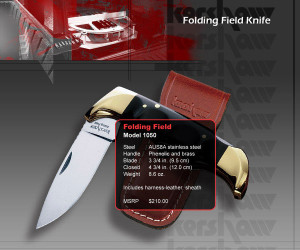 Model 1050 Folding Field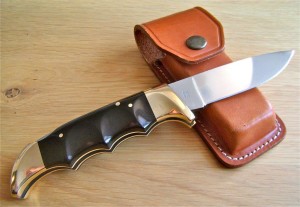 Made by Hattori in Aus8 steel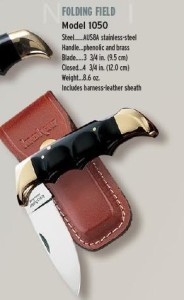 Specifications
There has been a number of variations in the ricasso stamping which has been summarized as;
1979-1981 Left side: Kershaw, Oregon USA. Right side: 1050, Japan.
1982-1989 Left side: Kershaw, Oregon USA, By KAI Japan. Right side: 1050.
1990-1998: Left side: Kershaw, Folding Field. Right side: KAI 1050, Japan.
1999- 2008 Left side: Kershaw, Folding Field. Right side: 1050, Japan.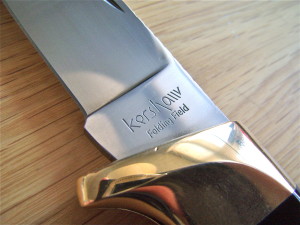 Post 2009 : Kershaw marketed 1050s manufactured in China for one or two years using 8Cr13MoV steel.
The Kershaw 1050 is on display among the knives in the Seki Sword Tradition Museum (関鍛冶伝承館) in Seki City, Gifu Prefecture, Japan.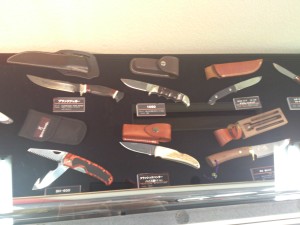 Model 1050 in Display in museum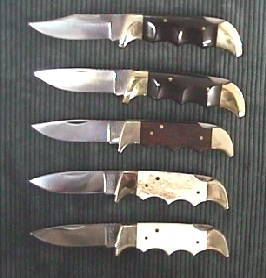 Various Kershaws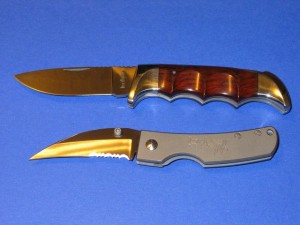 PakaWood scaled 1050 marked Kershaw. One if three special editions made for the1974-2004 Kershaw 30th Anniversary.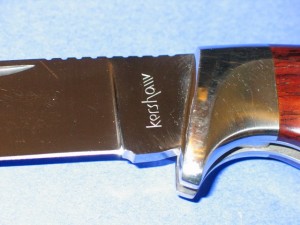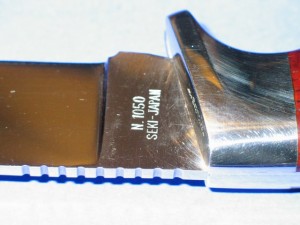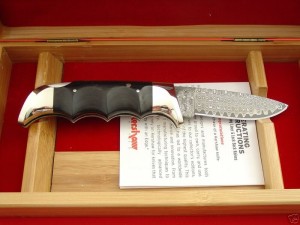 Second 1974-2004 30th Anniversary Edition Kershaw 1050. VG10 core with 16 layer Stainless/Nickel blade, solid Nickel Silver blosters and Micarta scales.  Serial numbered and only 500 made sold in presentation box with Certificate of Authority. 4 inches (10.2cm), Overall – 8 1/4 inches (21cm), Weight- 8.2 oz.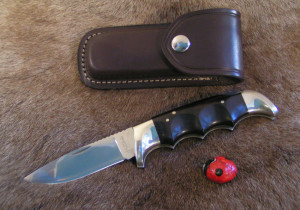 Hattori 1050 VG10 S/N 074
Third and final 30th Anniversary limited edition-  300 knives using VG10, stainless steel and ebony marked "Hattori" and 500 knives marked "Kershaw".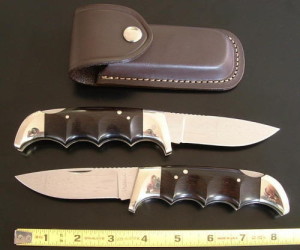 Hattori 1050 pair VG10/Ebony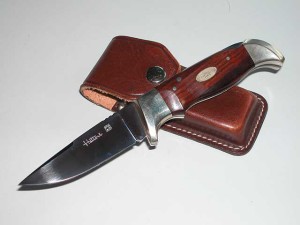 Current Hattori H-51 VG10/Cocobolo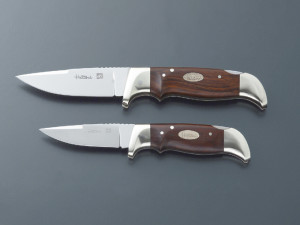 H-51 Large and Small

 H-51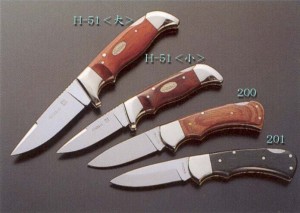 H51 in Cowry-X powder steel.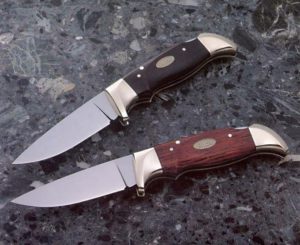 Special thanks to Mikael Wallin, Sweden.
Note: One of the best articles on the complete history of Kershaw Knives can be found at the following Knife Depot page:
https://www.knife-depot.com/learn/Kershaw/