While Browning is naturally known for it's firearms, it's knives are also well known to collectors. A number of models were designed in the late 1960s for Browning by a young Gil Hibben decades before Rambo III or Star Trek movies made him famous. Designated the Sportsman's Series they were outright hunting knives, both folding and fixed blades made to complement Browning's firearms in the field. Like many other U.S. knife companies at the time, Browning had knives made in the U.S., Germany, Italy and Japan. As a result one may encounter some of the oldest same or similar models with a different country of origin. This shift in country of origin reflects the economics of the post WWII world.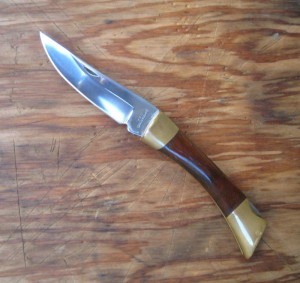 Made in U.S.A.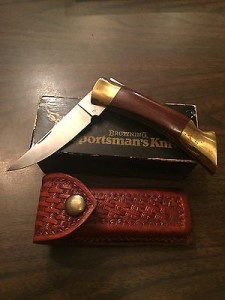 Made in Germany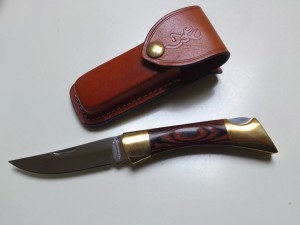 Made in Japan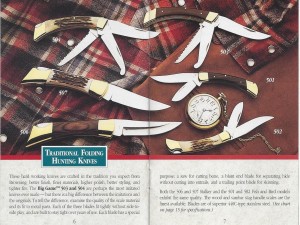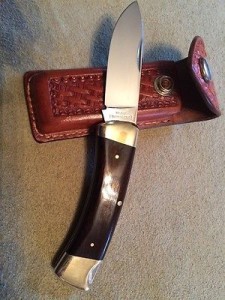 Of all the knives that Ichiro Hattori made for Browning,  one of the two most prominent models would be the 1970s Sportsman Model 3718.
The Browning 3718 was a Drop Point Hunter with an overall length of 7 3/4″ overall and a blade length of 3 1/2″. Steel was described as 440 by Browning at the time but later disclosed to be Aus8.  The 3718 long discontinued by Browning was made by Hattori in later years in a VG10 version and a Cowry-X Damascus version. A model designated 3717 is Hattori's adaptation of a Japanese Kiritsuke tip (sometimes called a reverse tanto in the U.S.) to the 3718.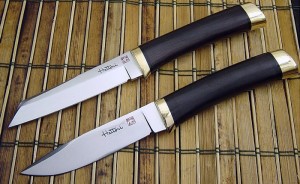 3717/3718 in VG10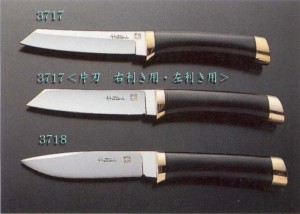 At one time the H-3717 was made separately with a single bevel for right handed and left handed users.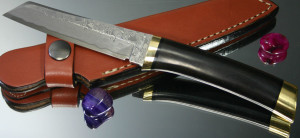 KD-3717 Cowry-X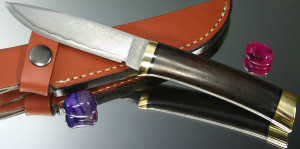 KD-3718 Cowry-X
The other famous model is the Browning Double Edged Damascus Hunter.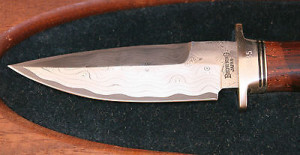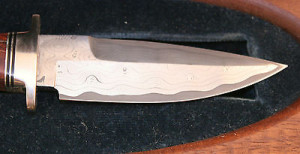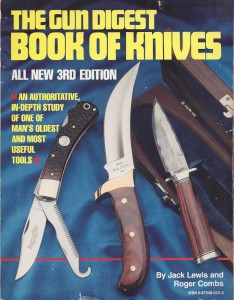 Cover of "Book of Knives" 3rd Edition 1988
In 1983 Browning approached the Seki knife makers with an idea to make a one time limited edition damascus hunter based on one of Gil Hibben's designs. Up to that time the making of a damascus blade involved the forge welding of iron and steel in alternating layers that often resulted in a costly and not very rust resistant final product. To meet Brownings requirement a new kind of damascus was created; not using iron, but stainless steel and nickel silver forge welded in 200 layers. The final result with it's surface grain, beautiful pattern and high luster was such that Browning changed it's plans and decided on extending the limited run designating it the Browning Model 3816. However only two models were produced over two years as the US Dollar to Yen exchange rate in 1986/87 made further production prohibitive.
 Model 3816
The knife was sold as the Model 3816 Browning Double Edged Damascus Hunter, with a mahagony handle and stainless steel guard and pommel, and a retail price of $350.00 in 1985. It came in a wooden lined presentation box, no sheath, and a certificate issued by Browning on Wa-shi (often called rice paper in the U.S.) and was serial numbered to 1000.  Overall length was 7 1/2″ and the blade 3 5/8″. The Model 3816D was the same but with engraving on the guard.
The second model was a concurrent run of 1000 knives called the Browning Damascus Classic Hunter.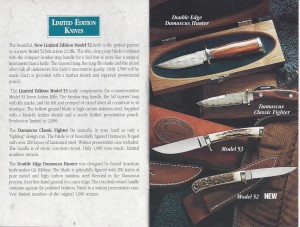 This design survives today only in the Hattori Presentation Master Hunter I models, one in ATS-34 and the other in 120 layer nickel Stainless Cowry-X Damascus.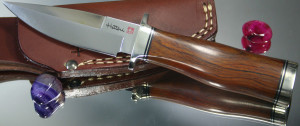 H-101 in ATS-34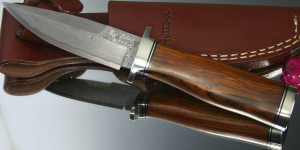 KD30-101 Cowry-X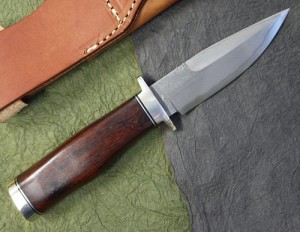 KD30-101 Cowry-X