Cold Steel Inc. of Ventura California was largely responsible for having introduced the "Tanto" on a large scale to the U.S. Although they may not have been the first to do so, and the Cold Steel design differed slightly from the traditional Japanese Tanto, to the extent that it has come to be known as the "American Tanto" design over the years, it was Cold steel's marketing of their product that has made the term "Tanto" an integral part of the knife world since the 1980s. The result being that there is hardly a knife maker today that does not include a Tanto design, or several, in their product line.
The Cold Steel Tanto was introduced in 1981. With a blade length of 5 3/4″ it was marked "400 Series Stainless", believed to be Aus8. A Sanmai version with an Aus8 core laminate existed as well and was likely the predecessor of the Master Tanto.
Early models-Left Side: Tanto, by Cold Steel, Ventura Calif. Right Side: Made in Japan. Later models-Left Side: Tanto. Right Side: Cold Steel, Ventura Calif, Made in Japan. There were some models which did not have "Made in Japan" on them and there is speculation that some of these early Tantos were possibly made in the U.S.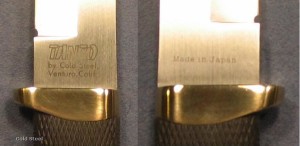 13A early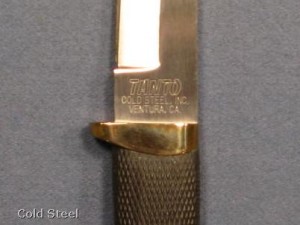 13A Later
There were special editions as well.
The Cutlery Shoppe Special Ops edition of the late 1980s had stainless fittings rather than brass, was serial numbered and came with a leather or kydex sheath. The left side ricasso had "Tanto" and a serial number.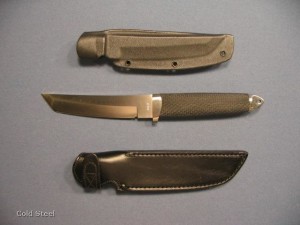 A "10th Anniversary Tanto" was offered in 1991.  The left side of the blade was marked "10th Anniversary Tanto 1981-1991 Cold Steel", and the right side had Lynn Thompson's signature and a serial number.  They also came with a certificate of Authenticity.  1000 were produced.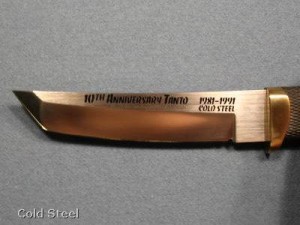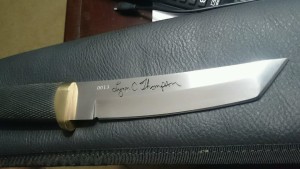 There was also the Hoffritz version which, like all knives the company sold, simply had Hoffritz printed on the left side blade.
The Master Tanto Model M13B is believed to have been introduced in the mid 1980s at least the name. It retained the 5 3/4″ blade, brass fittings but used the Aus8 core Sanmai steel, and three variations are known.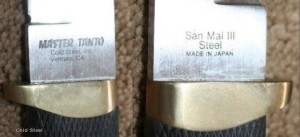 Ver 1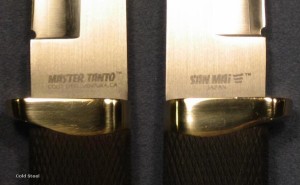 Ver 2
The third version was introduced in 1993 and the fittings were changed from brass to stainless. The blade length was also increased from 5 3/4″ to 6″.
At the same time the standard Tanto also switched from brass to stainless fittings ad became the model 13AN.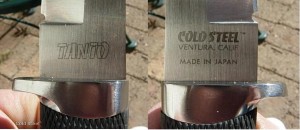 In 2001 a special edition of only 40 pieces using Aus10 was offered.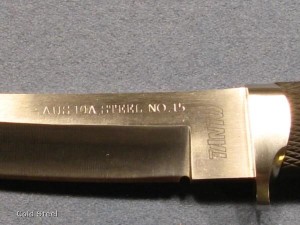 The Magnum Tanto model 13M had an 8 3/4″ blade in "400 series stainless", fittings in 300 series stainless and ws the first Tanto to have the full guard shaped like the "Tsuba" (guard) on a Japanese sword. The Magnum Tanto is unique in that unlike other and later Tantos, it has chamfering- a raised spine ridge, rather than a flat spine top.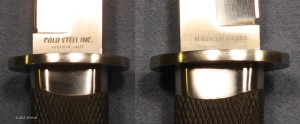 1980s Aus8 Magnum Tanto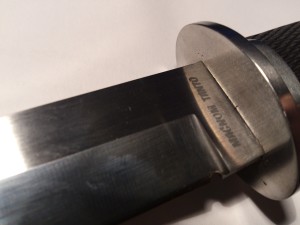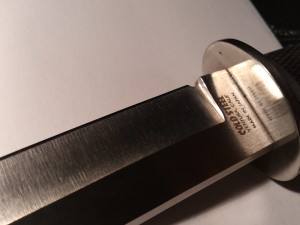 1989-90 Aus8 Magnum Tanto
This model gave way to the Magnum Tanto II (Mod 13MBII) with a 7 1/2″ blade introduced in 1990-91. It was produced in Aus8 until 1994, while a Aus8 core Sanmai model was produced until 2005.
After 2006 only a VG1 core Sanmai version was offered.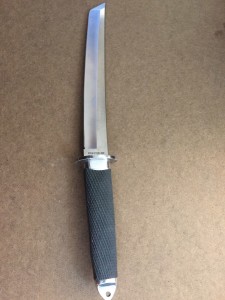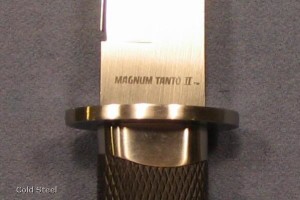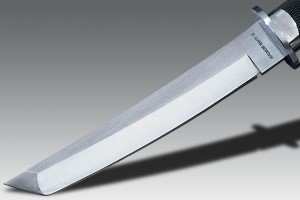 Magnum Tanto II in Aus8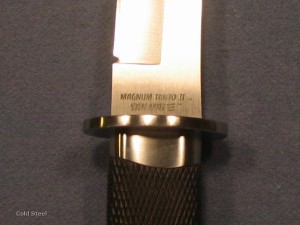 Magnum Tanto II in Sanmai Aus8 core.
Magnum Tanto IX(Model 13MBIX) with a 9″ blade and Magnum Tanto XII (13MBXII) with a 12″ blade were introduced in 1998.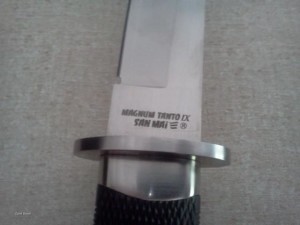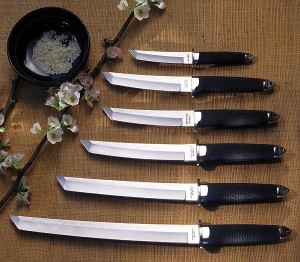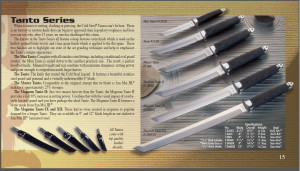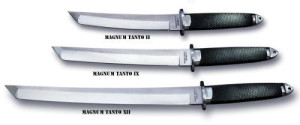 The current Master Tanto, Mangum Tanto II, IX and XII are all Sanmai with a VG1 core since 2006. The words VG1 appear on the ricasso. These have been and continue to be made by Hattori.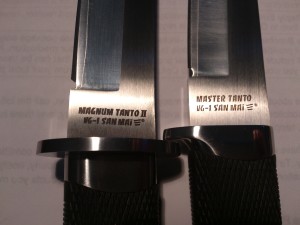 The Cold Steel Tanto in it's various forms has been a prominent recognizable knife and has appeared in movies several times over the decades.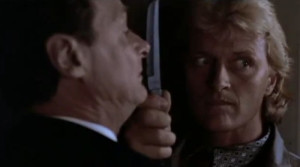 "Wanted Dead or Alive" 1987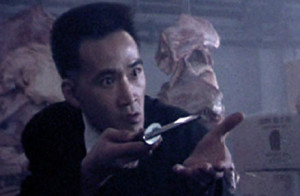 "Black Rain" 1989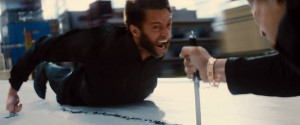 "The Wolverine" 2013
Making the Cold Steel Magnum Tanto at Hattori Hamono K.K. (Hattori Cutlery Co., Ltd.) Seki, Japan.
Installing the guard and bolster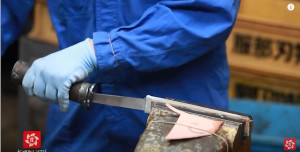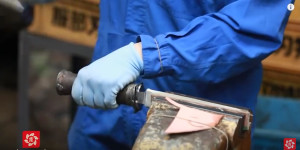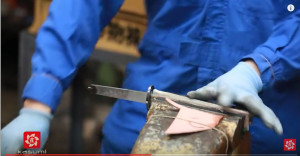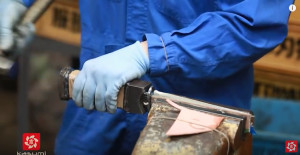 Applying Epoxy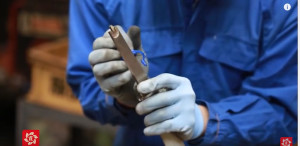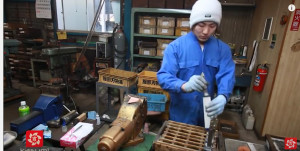 Ready for Handle and Pommel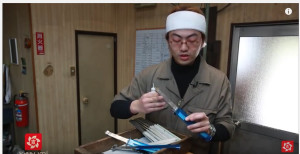 Final finishing after polishing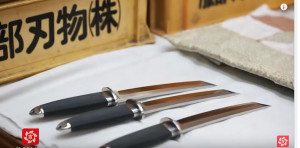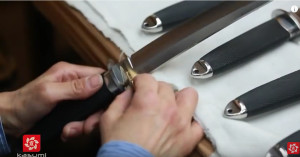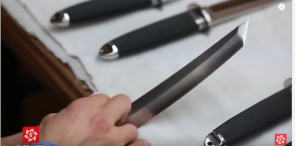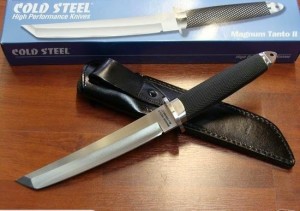 From Seki Japan to Ventura California.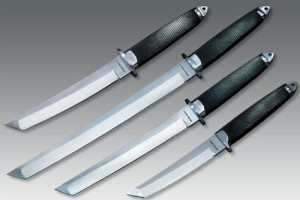 Special thanks to John Lauffer for his research and the Cold Steel Forums, Photos courtesy of Hattori Hamono K.K. Seki, Kasumi Knives, Moscow.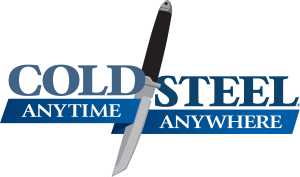 http://www.coldsteel.com/