The smallest Hattori fixed blades may be termed "Bird & Trout" or even "Gentlemen's Knives".
The Model HA-02 and HA-03 are named the "Fisherman's Lover", or "Amago". Designed primarily as an Angler's utility knife, it has a 2 1/2″ satin polished semi-drop point 0.118″ thick blade in Aus8 with an overall length of 6.3″. The HA-2 offers a Mahogany handle with Nickel Silver rivets.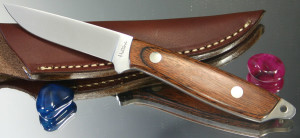 HA-02
The Model HA-03 is a skeletonized version of the same dimensions which drops 0.7 oz from the weight.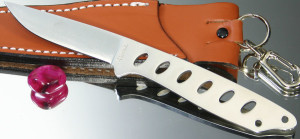 HA-03
The same models with a variation in tang are made as OEM for Katz Knives. Described as XT-80 Steel which is Aus8. The Walnut handle version adds a bolster, and both models add jimping.
Katz Kitty Caper – Walnut with leather sheath.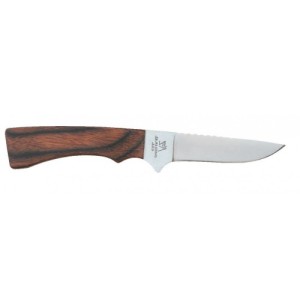 Katz Kitty Caper – Skeleton with nylon cordura sheath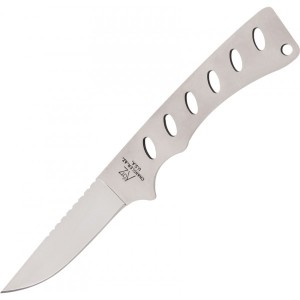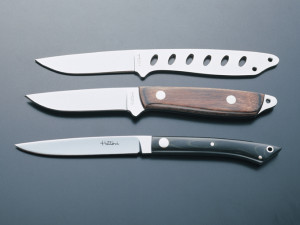 HA-02 and HA-03 in Aus8, Medaka.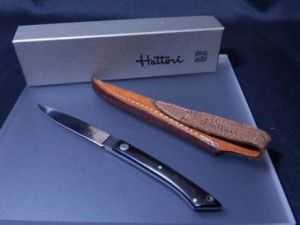 The scalpel style utility Medaka2 features a 3″ VG10 blade with black linen micarta handle.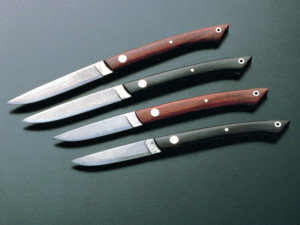 KD30 Medaka2 with 3″blade and Medaka1 with 2 1/2″ Cowry-X Damascus blades.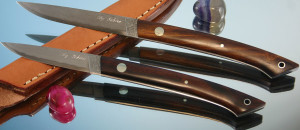 KD30 Medaka 1 and 2 in Cowry-X Damascus and desert ironwood.
KD30 Ajime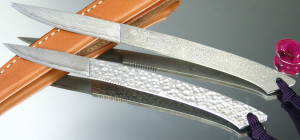 KD30 Ajime1 and Tsuchime1. Both single piece scalpel type construction.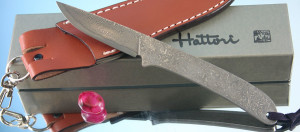 KD30 Ajime 3 Cowry-X 2 1/2″ semi drop point blade with 4″ handle.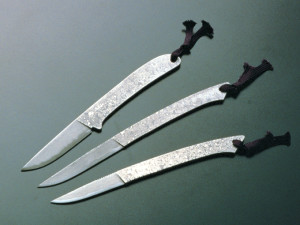 KD30 Ajime3 with 2 1/2″ blade, Ajime2 3″ blade and Ajime1 2 1/4″ blade.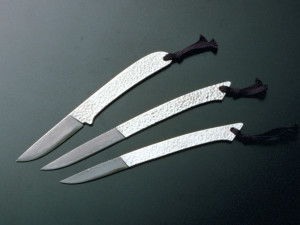 KD30 Tsuchime3 with 2 1/2″ blade, Tsuchime2 with 3″ blade and Tsuchime1 with 2 1/4″ blade.

KD30 845 Cowry-X Damascus Mahogany 2.95″ blade.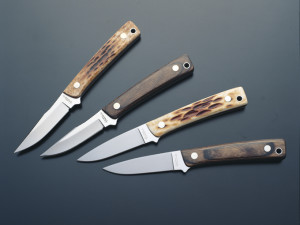 H-841 in jigged bone and  H-845 mahogany in VG10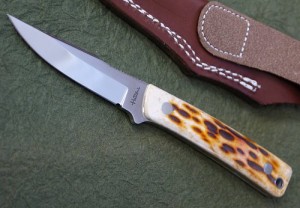 H845 VG10 3″ blade.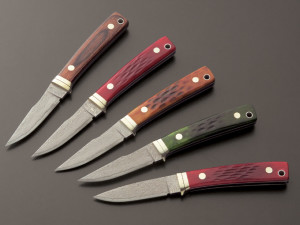 KD30 H841 and KD30 H845 Cowry-X Damascus in Brown, Red, Amber, Green bone handles.
Bob Lum design-
In 1992 some 20 knife makers formed an Outdoor Knife Section (Sporting Knife) within the Seki Cutlery Association. To promote their products to the global market in 1999 they chose to collaborate and market models under the brand name "Seki Cut". Several Japanese and American custom knife makers came aboard and contributed their designs.  The renowned U.S. knife maker Bob Lum (1943-2007) offered a few of his hunter designs and the fixed blades were made by Ichiro Hattori.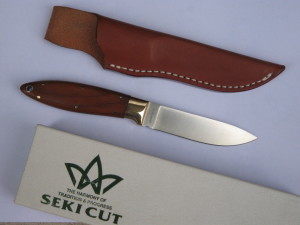 The Hunter Series offered a VG10 blade, brass bolsters and cocobolo handles. The SC-120 Large Hunter with a 4″ modified semi-skinner blade. The SC-121 Personal Skinner with a 3″ blade.

The SC-122 Trout and Bird with 3″ blade, and SC-123 Caper with 2 3/8″ blade.

The Light series offers the same designs but reduced weight with no bolster, a black micarta handle with 8 brass pins. The SC-126 Personal Skinner Light, SC-127 Trout and Bird Light, and SC-128 Caper Light.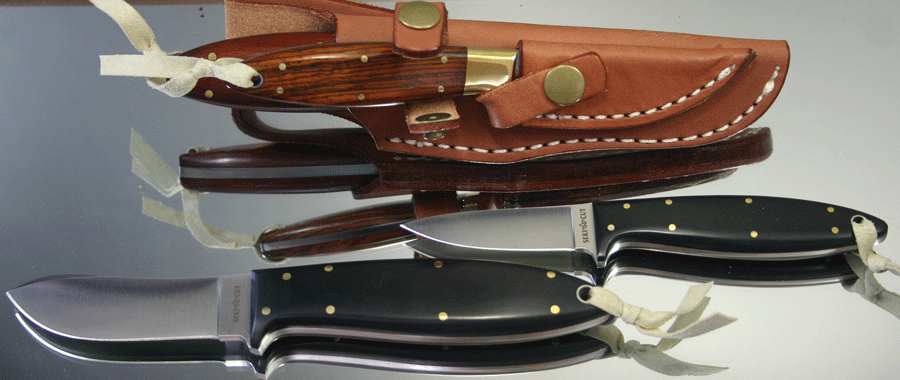 Personal Skinner and Caper combinations allowing the carriage of both models to maximize their design utility.