The most well known Daggers made by Hattori are likely to be the Kershaw Model 1007 Trooper and the smaller Special Agent.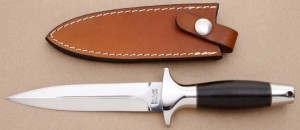 Trooper 1007
The Trooper model 1007 was introduced in 1978 and produced continuously until 2009. It is the only Kershaw Knife that was serial numbered throughout it's entire production. The overall length was 9 3/8″ and blade length 5 1/4″. The blade was double edged Aus8 mirror polished with a stainless steel pommel and guard. The handle was close grained ebony hardwood. When it was first introduced it had no fuller,  but one was added sometime in very early 1980.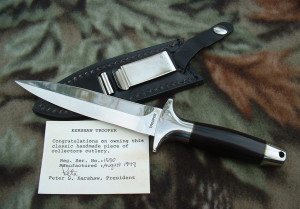 Very early Trooper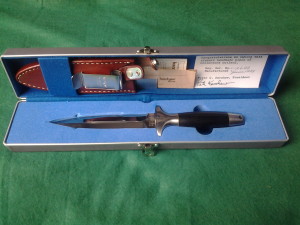 Case and COA
The Trooper was sold in a presentation case, with leather sheath and Certificate of Authenticity dated and signed by Peter Kershaw.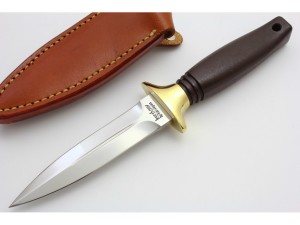 Special Agent
The Special Agent was a smaller version with an overall length of 8 1/2″, a blade length of 4 1/4″.
Hattori also made the Fang series of daggers for Al Mar Knives.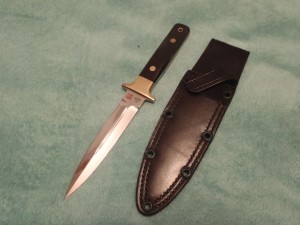 Al Mar Fang II
The Fang II was the larger with an overall length of 10″ and a Aus8 blade of 5 1/4″, brass guard and wood handle.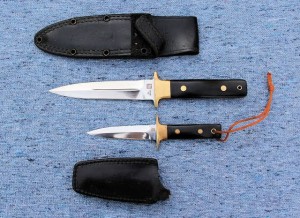 The Fang I was the smaller boot knife with a 6 3/4″ overall length and a 3 1/2″ blade. While not often seen now there were some variants using ivory/white micarta and sometimes very handsome engraving work.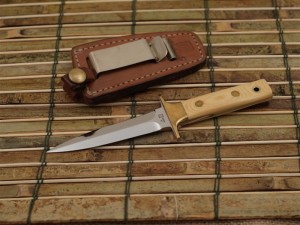 The most readily identifiable Hattori daggers are the two models made for Beretta. Both were sold with serial numbers, Pietro Beretta logo engravings and presentation cases.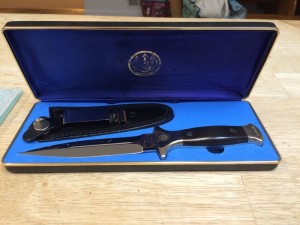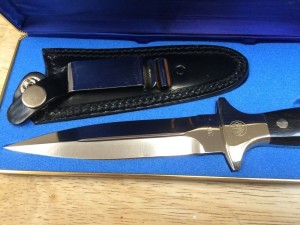 The Beretta Daggers were offered in the Large and Small sizes. They were offered is a commemorative box with logo engraved, and also without.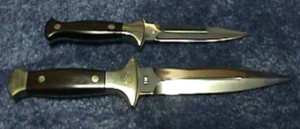 Beretta daggers
The Beretta models were later made under Hattori's brand: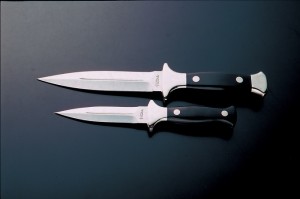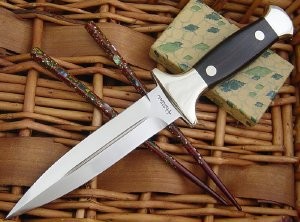 H983B
9 3/8″ overall, 5 1/8″ blade Aus8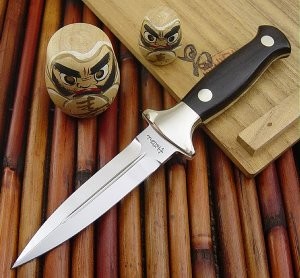 H938A
7 1/4″ overall 3 11/16″ blade Aus8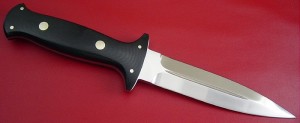 H983 Ultra Dagger 9 1/2″ overall 5 1/8″ blade in Aus8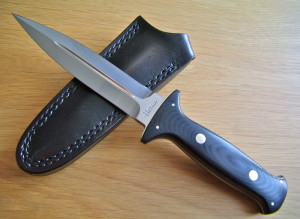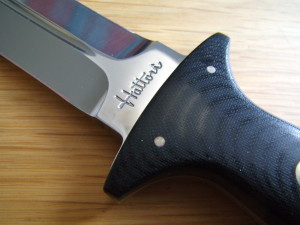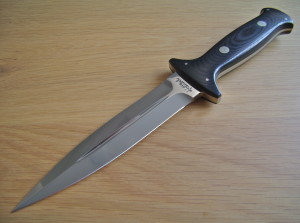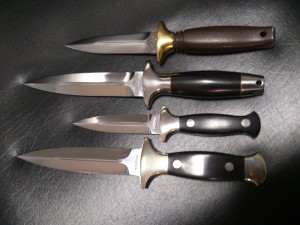 A currently produced boot knife/dagger is the Fallkniven G1 Garm.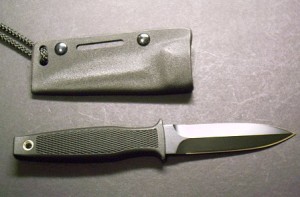 With early sheath

 Current sheath
The G1 has an overall length of 7 1/2″ and a solid VG10 blade RC 59 blackened with Ceracoat 8H of 3 1/2″ length.
The largest dagger by far is the Cold Steel Taipan in Sanmai III laminate, with a VG1 core and 420j2 sides produced from 2006 to 2015.